Bullying
Bullying is when a person or group deliberately intends to cause someone else to feel hurt, distressed, threatened or humiliated.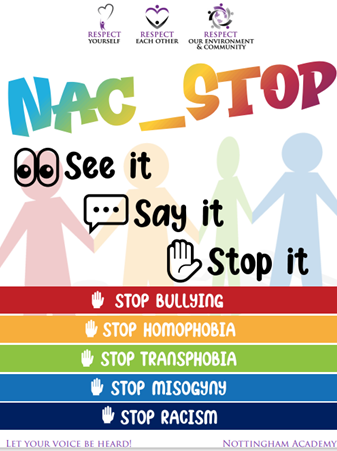 BULLYING IS NOT ACCEPTABLE
We want everyone at the Academy to feel safe and secure. We believe no one should be bullied in any way. If you, or someone you know, is being bullied:
TAKE ACTION
Watching and doing nothing supports the bully. Tell a member of staff or a member of your family immediately. You cannot deal with a bully by yourself.
Talk to a teacher, your tutor, your Head of Year, your parents or one of the Senior Leadership Teams. Do not give in to demands for money, sweets or anything else. Do not try to buy the bully off with sweets or other presents.
TOGETHER, WE CAN AND WILL STOP BULLYING
Building on an initiative formed within the Pupil Parliament, in March 2023 Nottingham Academy launched NAC_STOP. We are proud of the fact that our own pupils developed this idea into an initiative that will have such a positive impact on the community and plays a key role in our anti-bullying message.
NAC_STOP encourages our pupils to Start Telling Other Pupils and this underpins a key message of Nottingham Academy being a telling school where all are listened to. It also highlights an important message that bullying is not a one-off incident and is Several Times On Purpose. NAC_STOP echoes our values and Respect is at the core of them, they are aligned to core British values of respect and tolerance. Our academy does not accept any form of bullying or discrimination because it should be a safe space for everyone. We will deal with all issues that are raised. To report hatred or bullying students can:
Report to tutor

Report to DHOY

Report to HOY

Report to any member of SLT

Visit the NAC_STOP room on each site between 3 – 3.30